As an early birthday present to myself, I bought a microscope despite many other priorities. I've spent a few days using it over the past two weeks, and while I have mixed feelings, I don't regret the purchase.
I meant to write this June 1 after unpacking my new microscope, but posting things right away often turns into posting them the next day, and so on. If you're reading this, I must have broken that cycle, at least.
This is the first in a series:
Why a microscope?
Anyway, as I mentioned when I posted some sample images a week ago, I bought the microscope because it seemed decent scopes with decent computer cameras were reasonably cheap now. That's a lot of stacked qualifiers, and given my lack of expertise with microscopes, I admittedly was judging microscope quality mostly by the price and rating on Amazon, which is somewhat cyclical. That most recent delve into microscope pricing was triggered by something else entirely: tardigrades.
I had heard about tardigrades, aka water bears, some years ago. I want to say at least a few years ago, but I also know once I learn something, it often seems I've known it much longer than I have. But recently, I kept hearing about them in several places over the course of a few days. Most notably, I learned in the first video they are apparently quite abundant and can be seen through a simple microscope. Perhaps since images I had seen of them were taken with electron microscopes, I had thought tardigrades were far tinier than they actually are.
YouTube video: "First Animal to Survive in Space"
I stumbled on a VICE video about tardigrades featuring a naturalist named Mike Shaw. He described his research finding the critters in all of New Jersey's 21 counties. I loved his modest attitude.
I wanted to make a contribution to science, modestly. I didn't think that I'd do anything great but something, maybe, something somebody hadn't done.
And I loved his introspection.
When you're looking through the microscope and you're seeing this little tardigrade moving around in his environment, he's in the moment, he's in the now. He's not thinking about the future. He's not thinking about the past. All he's doing is just living in the present moment. So if we can be more like that – I'm not saying, "Let's be like tardigrades," but what I am saying is, if we can learn acceptance, I think everybody will be a lot happier. And I know I've been a lot happier since I've accepted and embraced life as it is.
[youtube 7W194GQ6fHI]
Cosmos: A Spacetime Odyssey
I recently spent some time doing a proper 1080p encode of the Blu-ray version of the highly acclaimed series "Cosmos: A Spacetime Odyssey" so I could watch it more easily on my computer and projector setup. In the second episode, Neil deGrasse Tyson talked about tardigrades during a lovely animation depicting one swimming around. Here's a clip someone posted to YouTube:
[youtube 2I-PQxuPkjA]
The Vital Question
In his summer 2016 book recommendations, Bill Gates mentioned The Vital Question by Nick Lane. Separately, Gates wrote glowingly about Lane's work:
I had never heard of the book or its author, a biologist at University College London named Nick Lane. A few months later, I hadn't just read The Vital Question—I had also ordered Nick's three other books, read two of them, and arranged to meet him in New York City.
Well, I ordered the book on Audible and listened to it toward the end of May and again this past week. Briefly, Lane mentioned tardigrades:
Spores survive thousands of years in permafrost, or even in outer space, without metabolising at all. They're not alone: seeds and even animals like tardigrades can withstand extreme conditions such as complete dehydration, radiation a thousand times the dose that would kill a human, intense pressures at the bottom of the ocean, or the vacuum of space – all without food or water.

Why do viruses, spores and tardigrades not fall to pieces, conforming to the universal decay dictated by the second law of thermodynamics? They might do in the end – if frazzled by the direct hit of a cosmic ray or a bus – but otherwise they are almost completely stable in their non-living state. That tells us something important about the difference between life and living. Spores are not technically living, even though most biologists would classify them as alive, because they retain the potential to revive. They can go back to living, so they're not dead. I don't see why we should view viruses in any different light: they too revert to copying themselves as soon as they are in the right environment. Likewise tardigrades. Life is about its structure (dictated in part by genes and evolution), but living – growing, proliferating – is as much about the environment, about how structure and environment interrelate. We know a tremendous amount about how genes encode the physical components of cells, but far less about how physical constraints dictate the structure and evolution of cells.
Of course there's a lot more going on in the book than tardigrades, but that's for another time.
Another lovely video
I found this DNews video while looking for a clip from Cosmos. It has a nice introduction to tardigrades by Meg Lowman, who apparently works in my city, as Chief of Science and Sustainability at the California Academy of Sciences.
[youtube PMaWjP1Ukp4]
Choosing a microscope
In researching tardigrades a bit more, I was hoping to find images of them along with specific model information for the microscopes used to make the images. I didn't know for sure what I wanted to get, but I knew I wanted to be able to look at tardigrades. I found a lovely English translation of a German tardigrade newsletter called Das Bärtierchen-Journal. -*The first page I landed on showed viewing tardigrades through small magnifying lenses called loupes. I browsed around the previous issues of the newsletter and found some delightful if somewhat quaint sounding writing. I even emailed the author about a typo on one page, and Martin replied, bringing a smile to my face.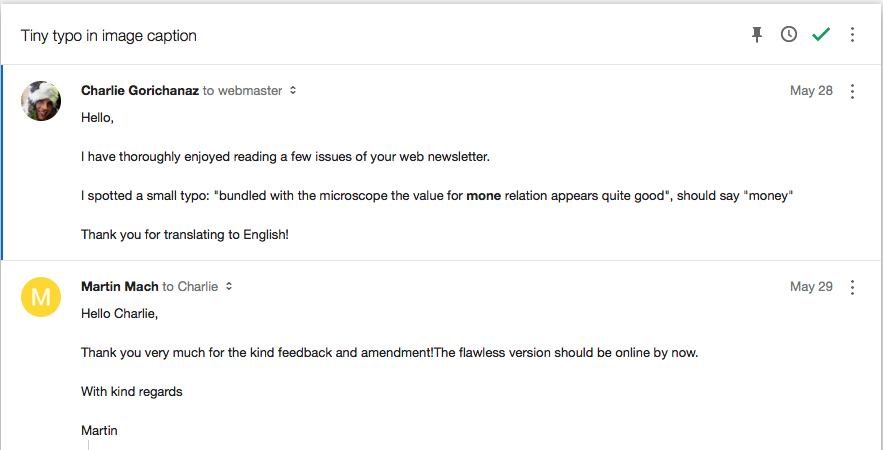 Email to author of The Water Bear web base
In particular, I read issues 159 and 160 about USB microscopes. The scopes in question were super cheap ones similar to toy type scopes I've seen on Amazon, and I didn't see mention of more expensive "adult" scopes with USB features, but I figured if the image on the cheap scopes was almost passable, the more expensive ones should be better, and I thought about buying one and almost did a few times, but restrained myself.
Almost a week passed and I was still constantly thinking about the microscope, and given my birthday was coming up, I decided to go for it. That entailed further research about which microscope to get, but I admittedly didn't learn all I needed to know till after I ordered one, hoping for the best.
The one I chose is marketed on Amazon as "OMAX 40X-2500X Super Speed USB3 14MP Digital Compound Trinocular LED Lab Biological Microscope". I had first settled on the USB 2.0 version of that same scope since it was $60 cheaper and a quick search showed USB 2.0 is capable of 480 megabits per second, which I figured would be plenty for a video stream, but I saw some reviews that mentioned jerky video when viewing on computer, so I didn't want to risk spending all that money specifically for a computer capable microscope only to have a jerky video stream that could have been resolved for a few extra dollars.
I also saw scopes by the company AmScope, but I didn't see any with as high a megapixel count camera, so I opted for OMAX. After ordering, I found a comparison of two scopes, one from each company – Battle of the Microscopes: AmScope vs. Omax Compound Microscope Comparison – while they weren't the same scope I bought, it seemed the two companies were comparable, or at least not total ripoffs. But for all I know, they are actually the same company and that critical review is actually a marketing puff piece. This idea seems reinforced by the AmScope microscope I found listed on OMAX's website: AmScope 40X-2500X Infinity PLAN Laboratory Trinocular Kohler Compound Microscope.
Anyway, I hoped the scopes would have horrible Amazon reviews if they were a sham. Though, the USB 3.0 version of the scope I chose to buy only had one review on Amazon, for only 1 star. And now that I went to quote from it, I see it is removed. The user had apparently based the negative review solely on the lack of a printed manual and a broken link on the sheet of paper describing how to download the manual. I actually had the same problem, but later realized I typed the URL incorrectly. As far as I could tell, there user wasn't complaining about the microscope itself, and the listing for apparently the same scope but with a USB 2.0 camera had roughly 4.5 stars in 5 with 11 reviews.
Awaiting delivery
The microscope was marked as Amazon Prime, but unfortunately did not have free Prime same day shipping. I placed my order at 4 a.m. Tuesday, May 31. I paid a $10 fee to upgrade the shipping so I would receive it Wednesday instead of Friday. It was somewhat agonizing to see the FedEx tracking show no activity after the initial record creation at 6 a.m. till 7:30 p.m., when another record creation showed up. It seemed the package was still not in FedEx's hands by the time I went to bed, and I doubted it would actually arrive the next day. But come Wednesday morning, it was in San Francisco, so it apparently was delivered to the distribution center in the middle of the night and hopped on a flight. Anyway, the package wasn't delivered till 3 p.m., but could have been worse!
I wanted to be ready to look for tardigrades once the scope arrived, but didn't want to miss the delivery, especially after paying for rush shipping. By the afternoon, though, I decided I could go across the street to the park and try to watch for delivery trucks from there. I looked for moss, but didn't readily find any. The park is on a hill, and thus is pretty dry. I took some scrapings from tree bark and looked at the dried plant matter on the ground, but decided to look elsewhere after 15 minutes.
While waiting for the microscope to be delivered, I searched for moss in the park that overlooks my house from above.
I started walking around the block, trying to think where there might be water or something like a pond, but noticed a tree with moss growing up one side. Bingo! I collected some moss and small slices of the bark, and then I ran back. The microscope was delivered shortly thereafter.
Unpacking and finding the manual
The story continues in "First impressions of OMAX M837ZL series microscope"!