Canceled Xfininty, got Sonic fiber Internet
From https://www.xfinity.com/support/articles/cancel-my-xfinity-services:
How to Cancel Your Xfinity Account

Chat with us online. Seven days a week (8:00

AM

- 11:00

PM

ET

).
Visit your local Xfinity Store or Comcast Service Center.
Email your cancellation request by completing a simple form.

Mail your cancellation request, including your first and last name, service address, account number and phone number, to:
Comcast Cable
ATTN: Service Change Requests
1701 JFK Blvd.
Philadelphia, PA 19103

Call us at 1-800-xfinity (1-800-934-6489) and follow the prompts to "cancel service" or "downgrade service."

Note: If you mail or email your cancellation request, we'll give you a call within two business days to confirm the request.
From https://chat.xfinity.com/Forms/CancelService:
We've received your request

We take our customer's security seriously, so we'll give you a call within two business days to verify this request. Any changes to your account will be effective as of today's date. Please know we're committed to improving every aspect of your experience and we're working hard to make that happen.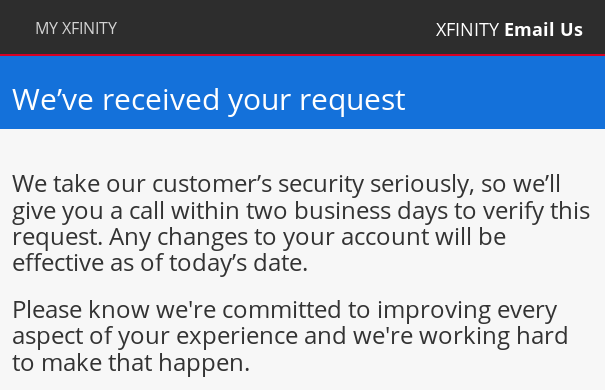 screenshot_2018-09-10_151134.png