Credible's incredible marketing is just not credible
Back on February 19, about six weeks ago, I saw an ad on Facebook for Credible, a company that supposedly helps you consolidate private and government student loans. I had done a consolidation before through the sort of official Education Department route, but only some of my loans qualified, so I was still left with six loan accounts to deal with, ranging from 5 to 6.5 percent interest rates. For a few years they have been on auto pay, so it wasn't a big deal, but the OCD me would prefer to see just one nice loan account instead of a bunch with weird payment amounts.
Credible claims to solve my "problem" with ease, in just three steps!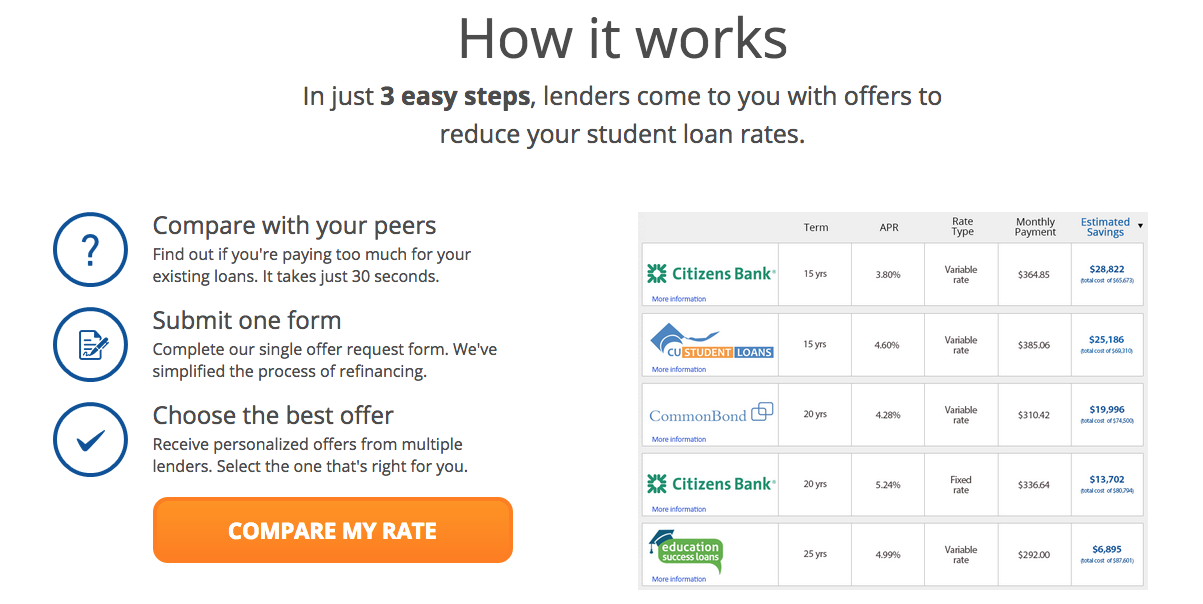 Credible marketing" class="mt-image-none
So I filled out the Credible sign up form and waited.
After four days, I got an email informing me I had offers. I logged into Credible, expecting to find that slick summary of exact offers so I could magically refinance in a few clicks, as they made it seem. Instead, I found these links to go sign up from scratch on their partner banks before seeing any interest rate information. What the hell was the point of using Credible?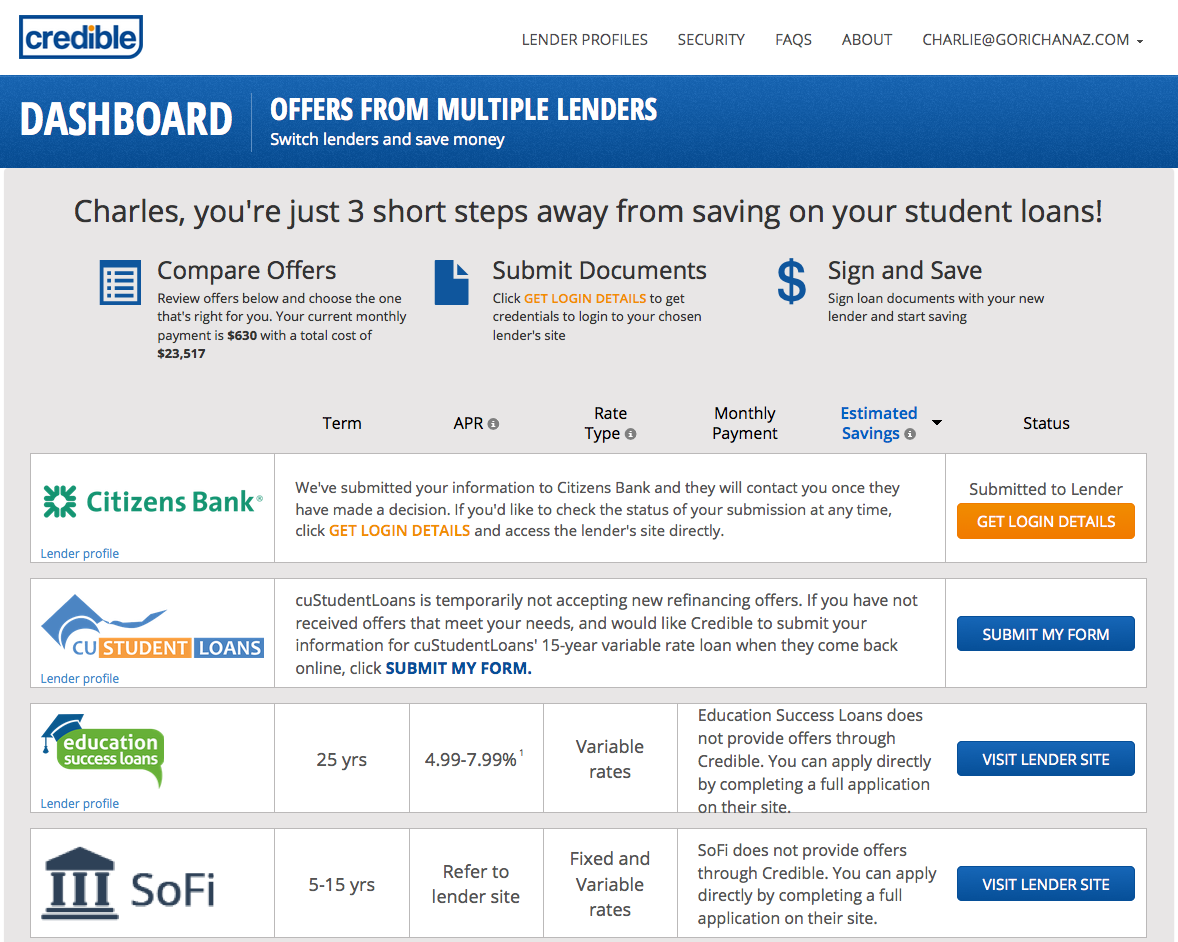 Credible in reality
Wait, so at first they promised I could do this in "3 easy steps", and having completed the first two steps, I am now "just 3 short steps away"… I see where this is going.
This was annoying, but I went ahead and clicked "Get Login Details" for Citizens Bank. Even this claim was a lie, as I needed to completely sign up for Citizens Bank from scratch, making my own login and submitting all my existing banking and loan documents again. And then I had to wait another week.
In the mean time, I signed up for a Credible competitor, LendKey, and ended up doing the same deal, signing up directly with the bank cuStudentLoans. The end result of that was dozens of annoying emails asking me to submit additional documents, and a final offer to refinance with a super low interest rate of 7.01 percent. If only that weren't significantly higher than my existing rates. Oh, and I need to sign up for another bank account with them before being finally approved, and the rate might change.
We're happy to tell you that you have been conditionally approved for a 7.01% consolidation loan. There are one or more documents we need before we can review your loan for final approval.

CREDIT UNION MEMBERSHIP
You must complete the membership for McGraw-Hill Federal Credit Union before we can review your loan for final approval. If you decide to cancel the loan request there is no further obligation for membership. Learn about the benefits of credit unions and the simple membership process through our New Member Guide.
So I told them a few weeks ago to cancel my account and stop contacting me. Yesterday I nonetheless got a voice mail from cuStudentLoans telling me they "did restructure the way that [they] distribute out interest rates" and to reapply at lendkey.com.
Continuing with Citizens Bank, I had multiple rounds of needing to submit more documents through their black box upload portal. I get the sense not even their staff can see everything I uploaded, as I was asked to gather documents and loan statements multiple times, and ended up uploading my latest bank statements four times, all within two weeks. In general, when I emailed them asking questions, the responses were, while clearly written by a human, not answering the question I asked.
Finally, after much frustration and almost canceling the process out of frustration twice, I got my offers from Citizens Bank, which at least were equal to or less than my current interest rates: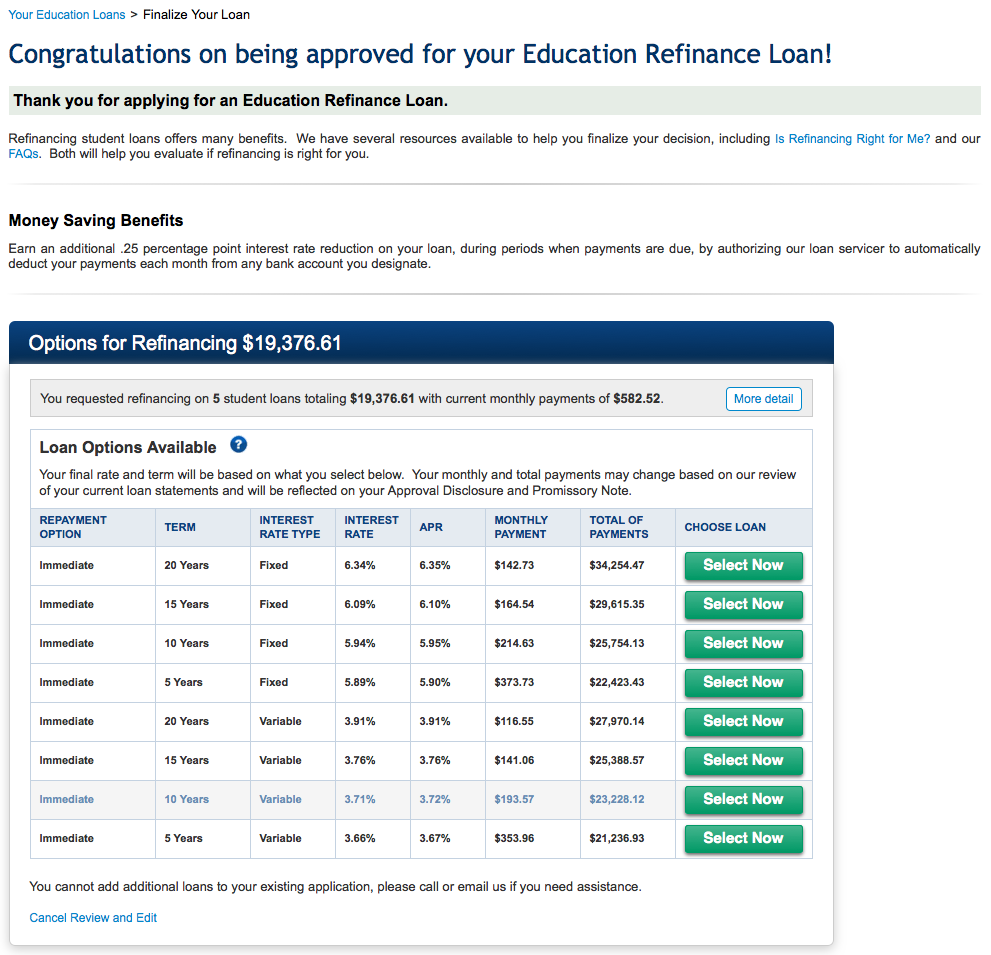 Citizens Bank offers
I opted for the 10 year 3.72 percent variable rate loan. If this were a mortgage, I would certainly not choose a variable rate, but for this, I'll just aggressively pay off the loan if the rates go up too much. The entire point of keeping my student loans around is that I can theoretically make a higher interest rate investing that money with Wealthfront or Betterment.
Now I just wait to see what happens. I still don't know if Citizens Bank will adjust the loan amount since I am still making payments since submitting the loan info and having them determine the amount. I asked three times, but I guess they won't answer.
I also don't expect Credible to follow through on their promise of a $25 Amazon gift card for signing up for their newsletter and then accepting a loan. I emailed to ask about this offer a few weeks ago, but again, I received no reply.
So on account of all their promises being lies, Credible gets an F.
One last possible annoyance in this saga: I haven't been able to determine if Citizens Bank is supported on Mint, which I love despite its clunkiness. I called CB to ask, but the agent told me in a strong Boston accent she had never heard of Mint, but that it sounds interesting. When I simply search Mint itself, there are numerous entities by the same name, none of which apparently recognize my CB login info. So it doesn't seem promising, but I'll report back!
Update, 13 April 2015
While my experience with Credible left much to be desired, I can at least report they monitor social media and have reached out after I tweeted a link to this post.
@CNG I'm sorry you had such a frustrating experience. We're following up direct with an email right now.

— Credible (@credible) April 1, 2015
I heard by email April 1 from Dave Lewis, the business operations manager, and then April 7 from Stephen Dash, the CEO. They apologized for my negative experience, offered to help if I needed assistance and said the company has made improvements and added lenders since I signed up. Apparently my previous email about the Amazon certificate had ended up in the spam bin. Had that not happened, I might have initiated a dialog a bit earlier with Credible, though at that point I think I was already committed to the Citizens Bank loan, so any improvements since then wouldn't have benefited me.
For completeness, below is the last message from Mr. Dash. I can only hope this is accurate, but I at least appreciate they made clear they were not asking me to take down the blog post. So there's that.
Sounds good Charlie.

You will receive your Amazon certificate today.

A few points you may want to consider if you decide to write a follow up post:

Credible is always adding new lenders to the platform - recently, Lendkey and Cordiagrad (Bank of Virgina) have made products available. Today, a qualified borrower that comes through our site receives 10 offers on average on their Dashboard.
Credible and Citizens Bank have recently partnered to have a dedicated,

VIP

customer service representative for all customers looking to refinance with Credible (and as a result some Credible users are completing refinancing with Citizens in less than a week)
Your email to Credible about the Amazon gift card was filtered to the spam folder because of the use of "$" and Credible hadn't yet been notified by the Lender that you had closed your loan. You will receive this today.
Our ops team did its best to be responsive in helping explain the situation after being notified about it. We certainly welcome feedback.

I'd be happy to jump on the phone and further discuss if that would be helpful.

Kind regards,
 Stephen
I'd be interested hearing from anyone reading this who has tried the service lately. And if you're planning to try it, take some screenshots! ;-)