Diversifying by also using Betterment
A month ago I wrote about how well my Wealthfront IRA was doing after the first six weeks. Well, I decided to also try one of their competitors, Betterment.
At first I was just going to open a second Wealthfront account, but I didn't have the $5000 minimum that is required for new accounts, even if you already have one. I looked at Betterment, and saw they have apparently no minimum.
I had to wait a day for the test deposits before I could initiate a withdrawal from my checking account, and then another day for the withdrawal to complete. I saw my "overview" page jump from $4,000 (including pending deposits) to nearly double that and then back down today. Apparently they need a little more QA for the transition process so the overview doesn't double count funds that are completing deposit. Not a big deal, but I can imagine it could lead some people with larger deposits to have a small sadness when they think they made a lot of money and then lost it.
Here are screenshots of the "transition":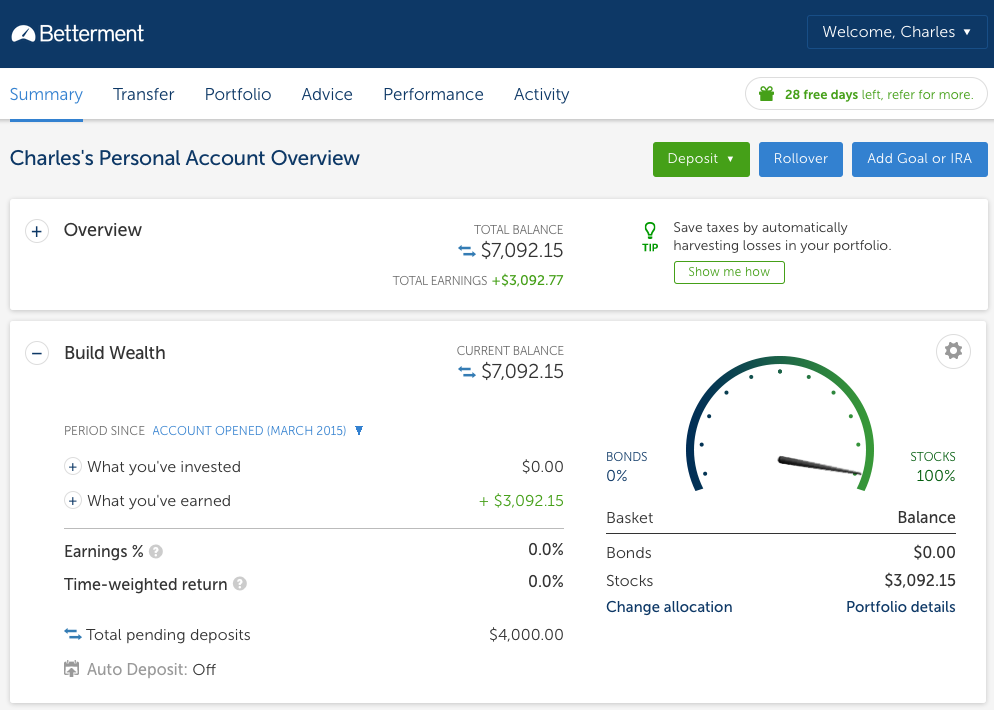 betterment-overview.png
betterment-overview-2.png
As with Wealthfront, if you're interested in trying out Betterment, I'd appreciate if you use my referral links: