The San Francisco Marathon: Take 3
Pictures coming later, but I wanted to write this now before I let it slide for a year like last year!
I expected this marathon to be bad, and it was, but I did finish. I really hope I manage to do a proper training schedule for my next marathon (after the 50K I have in a month…).
In a last ditch effort to do something about my knee, I bought a pack of patella knee straps and compression knee sleeves on Amazon with same day shipping. The sleeves arrived with one missing, so that made up my mind on which product to use. I'm not sure if the patella straps ended up doing anything, as I wore them over my compression pants, and they kept slipping down and spent most of the race an inch or two below my knee.
I slept from 9:30 to 4:20, though I woke up restless quite a bit and had some pretty strange dreams, including one where I missed the marathon because it took me two hours to find the tea kettle, and my family was no help, though I am not sure why they were at Alan's place. I planned to wake at 4 and leave by 4:40. I left by 5:10, so I had to run 1.4 miles to make it to the Wave 3 corral in time. It was supposed to close 15 minutes before the 5:42 start time, but I think I got there after that.
The first 10 miles or so went surprisingly fine. I was a bit slower than last year, but I felt I could pick up the pace a bit and perhaps break four hours again. Shortly after that thought, I had issues, but not with my knee. I started feeling a somewhat sharp pain where my right foot was striking, on the left side just behind the big toe. It's probably the same issue I had last year, where it started feeling like that bone was bruised and tender. I tried adjusting my strike so I would land more on the outer edge, but that took a surprising amount of effort. After some miles I looked at it and saw my stretchy bandage I was using to cover a past blister had slide forward. I thought perhaps that small lump was causing the problem, so I took that off. After some more miles with the problem getting worse, I caved and put on my foot compression sleeve on the right side only. I tried to avoid it, because while it feels good, it causes the front edge of my foot to need to stop the rest from sliding forward, and it can blister. That didn't become a problem, but the sleeve didn't help much either. That pain slowed me down the most, but I'm sure my endurance also wasn't that great due to the lack of training. In the last 8 miles or so, I shifted from trying to land on the outer part of my right foot to intentionally trying to land more on my heel. Normally I would avoid this, and it is actually quite difficult in my thin sandals, but I was willing to sacrifice some knee pain for reduction in that foot pain. It helped, and the knee never hurt.
By the end, I was walking quite a bit, especially when I realized there was no chance I would make four hours. In the last two miles, I had another issue, where I felt a sudden tight pulling from the inner side of my kneecaps toward my groin. It got bad enough I had to stop jogging, but after some walking, it went away. I felt I was one slight misstep away from a bad cramp, so I didn't do anything crazy at the end. I finished in 4:31:38, about 33 minutes slower than last year. I didn't stop at the restrooms at all this year, an improvement on last year's amazing single stop to pee. What an improvement over the previous years where I'd have to stop a dozen times!
Somehow I did not have any knee issues at all. I'm not sure if it was the patella strap, or my focusing on swinging my hips fully, or the 15mg of my stimulants prescription I took partly before and during the race, or what. I hope it was just a matter of better form. If it was the strap, I'm glad it was effective, but I would rather not have a problem needing a strap! Also, for future reference, I got two 325mg Tylenol pills at medical around mile 15. I'm not sure it did anything; maybe it helped with my foot issue.
After I got my medal and walked probably a half mile to get my "40 mile" challenge medal, I hung around for a bit catching up on texts and Facebook and relaxing. I got stopped by a few people wanting pictures with me (due to my funny outfit), and two or three separate people told me my tall rainbow mohawk served them well trying to coordinate with others watching for them on the sideline, or for keeping pace with me. One girl took a selfie with me on the Golden Gate Bridge also. I'm glad I dressed up! I told my brother just a few days ago I was not going to do it again this year since I wasn't sure I would even finish, and I didn't want to be a sad clown dropping out. I'm not sure if it helped, but it made today more fun at least!
Then I headed back to the finish line to try taking photos of An's friend Patrick, who told me he was not done yet and had three miles to go (and also forgot to use his timing chip, as I noticed his live results said he hadn't started). Somehow at this point I felt I could run again, so I jogged the half mile or so and waited. I ended up missing him, as he shot past way quicker than I expected. I went to say hi, his mom took a photo of him and us, and then I headed back to Alan's, stopping first at Taquería Zorro. In total, I ran or walked probably about 50K, so at least I should be somewhat sure I can do the 50K at Burning Man in five weeks. But we will see how this recovery goes.
Update: August 2
I ran for the first time since the marathon tonight, about five miles, 10 days later. My knees were somewhat hurting, but not much. I didn't use the patella straps this time. Next time I will! The strange bruise feeling possible nerve issue behind my right big toe is still there, but only when I hit it at certain angles.
I need to pick up the training now to prepare for the 50K that's in 27 days!
Here are some images I forgot to add before: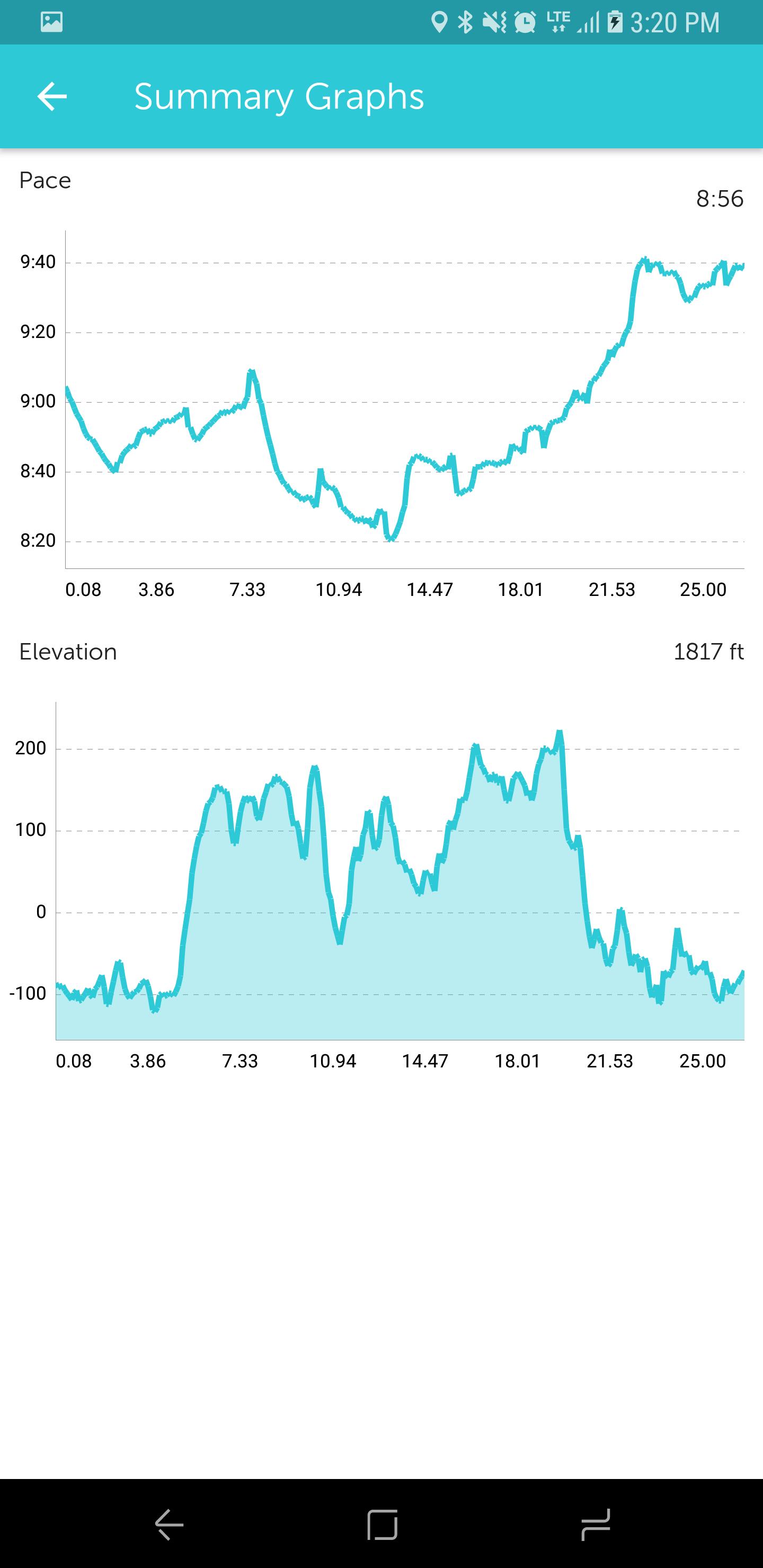 sf-marathon-graph-2016.png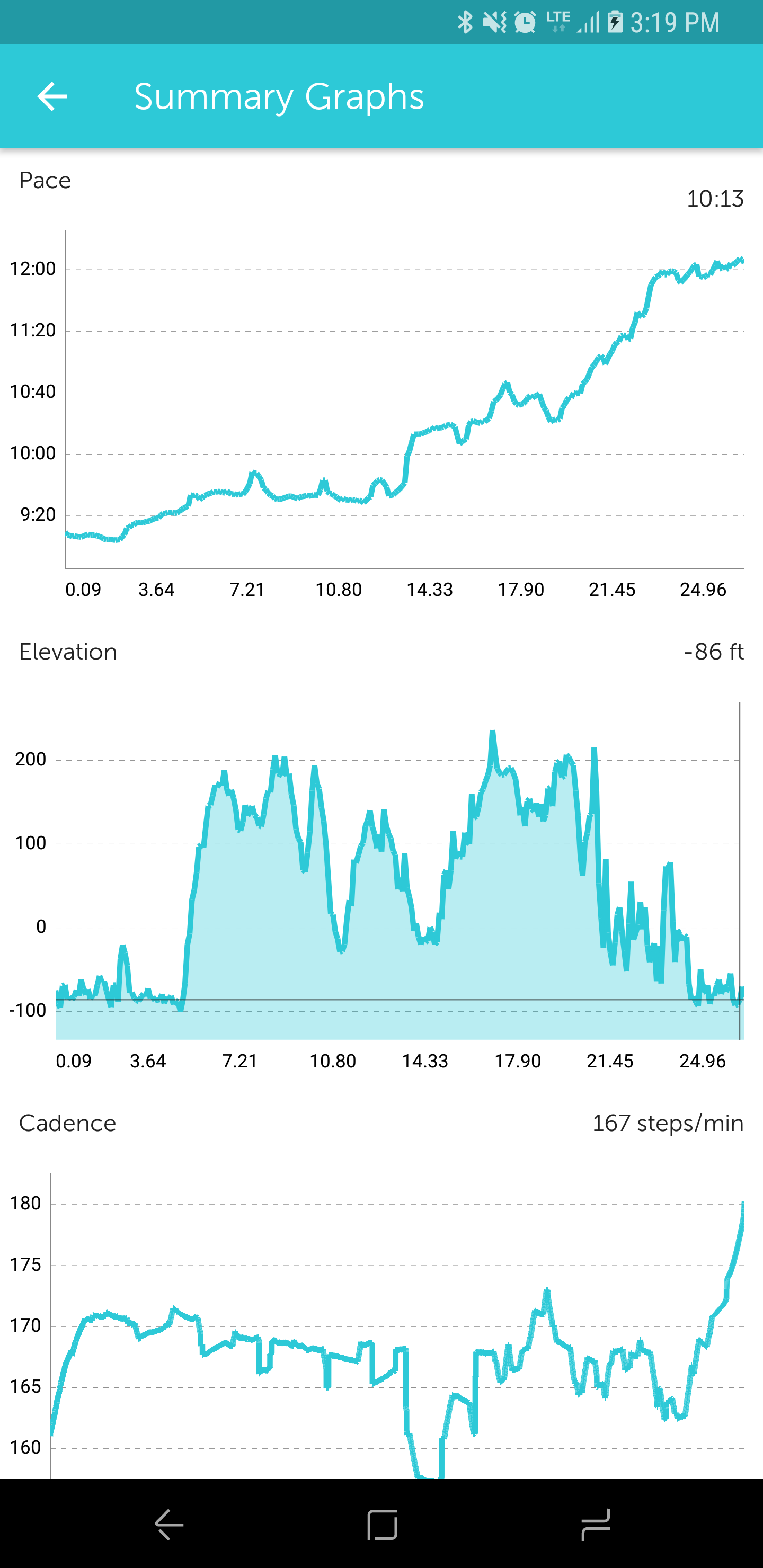 sf-marathon-graph-2017.png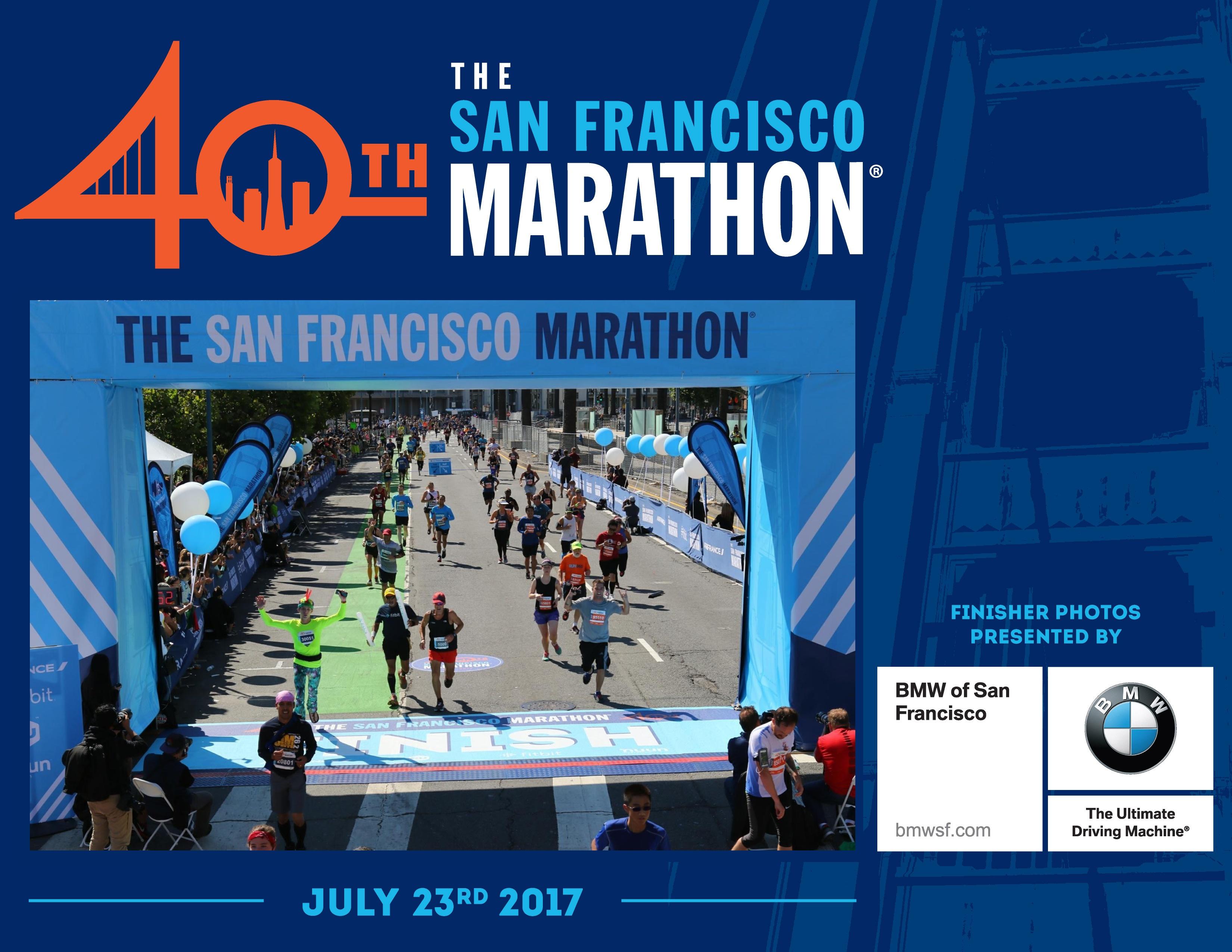 The official race photos this year were not great. I only was captured at the end of the race, and no large photos with the companf branding were available.