Fitbit Connect sync fails when Bluetooth enabled
I can only seem to sync my Fitbit Charge 2 on macOS Sierra with the Fitbit wireless dongle and with my system Bluetooth explicitly disabled.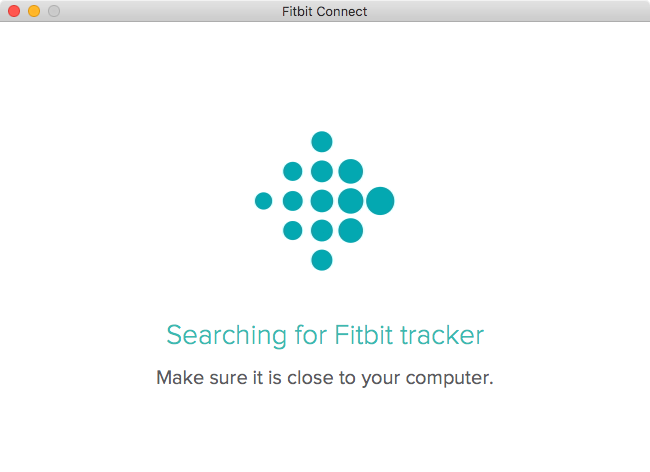 Searching for Fitbit tracker / Make sure it is close to your computer.
An error occurred while syncing! / An unknown error occurred!
Otherwise the logs look like this.
syslogs/galileo.log:
NOTE

:

  

Most

 

system

 

logs

 

have

 

moved

 

to

 

a

 

new

 

logging

 

system

.

  

See

 

log

(

1

)

 

for

 

more

 

information

.




Apr

 

24

 

23

:

09

:

47

 

CharlieDesktop

 

Fitbit

 

Connect

[

1506

]

 

<

Error

>

:

 

assertion

 

failed

:

 

16E195

:

 

libxpc

.

dylib

 

+

 

74307

 

[

ABC45890-DA23-3A4A-B50B-1384BD4CBBDF

]

:

 

0x89




Apr

 

24

 

23

:

09

:

50

 

CharlieDesktop

 

Fitbit

 

Connect

[

1506

]

 

<

Notice

>

:

 

BUG

 

in

 

libdispatch

 

client

:

 

kevent

[

EVFILT_MACHPORT

]

 

monitored

 

resource

 

vanished

 

before

 

the

 

source

 

cancel

 

handler

 

was

 

invoked




Apr

 

24

 

23

:

32

:

26

 

CharlieDesktop

 

Fitbit

 

Connect

[

1797

]

 

<

Error

>

:

 

assertion

 

failed

:

 

16E195

:

 

libxpc

.

dylib

 

+

 

74307

 

[

ABC45890-DA23-3A4A-B50B-1384BD4CBBDF

]

:

 

0x89




Apr

 

24

 

23

:

32

:

29

 

CharlieDesktop

 

Fitbit

 

Connect

[

1797

]

 

<

Notice

>

:

 

BUG

 

in

 

libdispatch

 

client

:

 

kevent

[

EVFILT_MACHPORT

]

 

monitored

 

resource

 

vanished

 

before

 

the

 

source

 

cancel

 

handler

 

was

 

invoked




Apr

 

24

 

23

:

43

:

01

 

CharlieDesktop

 

Fitbit

 

Connect

[

322

]

 

<

Error

>

:

 

assertion

 

failed

:

 

16E195

:

 

libxpc

.

dylib

 

+

 

74307

 

[

ABC45890-DA23-3A4A-B50B-1384BD4CBBDF

]

:

 

0x89




Apr

 

24

 

23

:

43

:

04

 

CharlieDesktop

 

Fitbit

 

Connect

[

322

]

 

<

Notice

>

:

 

BUG

 

in

 

libdispatch

 

client

:

 

kevent

[

EVFILT_MACHPORT

]

 

monitored

 

resource

 

vanished

 

before

 

the

 

source

 

cancel

 

handler

 

was

 

invoked



syslogs/system.log:
Apr

 

24

 

23

:

42

:

21

 

CharlieDesktop

 

galileod

[

54

]

:

 

Starting

 

tracker

 

discovery




Apr

 

24

 

23

:

42

:

21

 

CharlieDesktop

 

galileod

[

54

]

:

 

discovered

 

peripheral

:




Apr

 

24

 

23

:

42

:

21

 

CharlieDesktop

 

galileod

[

54

]

:

  

name

:

 

(

null

)




Apr

 

24

 

23

:

42

:

21

 

CharlieDesktop

 

galileod

[

54

]

:

  

transmit

 

power

:

 

0




Apr

 

24

 

23

:

42

:

21

 

CharlieDesktop

 

galileod

[

54

]

:

  

service

 

uuid

:

 

ADABFB00

-6E7

D

-4601

-

BDA2

-

BFFAA68956BA




Apr

 

24

 

23

:

42

:

21

 

CharlieDesktop

 

galileod

[

54

]

:

  

device

 

uuid

:

 

322F

E572

-

D3A3

-48

A9

-

A309

-

ABB5688DCA0B




Apr

 

24

 

23

:

42

:

21

 

CharlieDesktop

 

galileod

[

54

]

:

  

RSSI

:

 

-68




Apr

 

24

 

23

:

42

:

21

 

CharlieDesktop

 

galileod

[

54

]

:

  

a

 

fitbit

 

tracker




Apr

 

24

 

23

:

42

:

21

 

CharlieDesktop

 

galileod

[

54

]

:

 

discovered

 

peripheral

:




Apr

 

24

 

23

:

42

:

21

 

CharlieDesktop

 

galileod

[

54

]

:

  

name

:

 

Charge

 

2




Apr

 

24

 

23

:

42

:

21

 

CharlieDesktop

 

galileod

[

54

]

:

  

transmit

 

power

:

 

5




Apr

 

24

 

23

:

42

:

21

 

CharlieDesktop

 

galileod

[

54

]

:

  

device

 

uuid

:

 

322F

E572

-

D3A3

-48

A9

-

A309

-

ABB5688DCA0B




Apr

 

24

 

23

:

42

:

21

 

CharlieDesktop

 

galileod

[

54

]

:

  

RSSI

:

 

-67




Apr

 

24

 

23

:

42

:

21

 

CharlieDesktop

 

galileod

[

54

]

:

  

a

 

fitbit

 

tracker




Apr

 

24

 

23

:

42

:

22

 

CharlieDesktop

 

com

.

apple

.

xpc

.

launchd

[

1

]

 

(

com

.

apple

.

xpc

.

launchd

.

domain

.

user

.4294967294

)

:

 

Service

 

sets

 

EnableTransactions

=

false

 

and

 

EnablePressuredExit

=

true

,

 

which

 

makes

 

no

 

sense

.

 

Enabling

 

Transactions

.




Apr

 

24

 

23

:

42

:

28

 

---

 

last

 

message

 

repeated

 

10

 

times

 

---




Apr

 

24

 

23

:

42

:

28

 

CharlieDesktop

 

galileod

[

54

]

:

 

discovered

 

peripheral

:




Apr

 

24

 

23

:

42

:

28

 

CharlieDesktop

 

galileod

[

54

]

:

  

name

:

 

(

null

)




Apr

 

24

 

23

:

42

:

28

 

CharlieDesktop

 

galileod

[

54

]

:

  

transmit

 

power

:

 

0




Apr

 

24

 

23

:

42

:

28

 

CharlieDesktop

 

galileod

[

54

]

:

  

service

 

uuid

:

 

ADABFB00

-6E7

D

-4601

-

BDA2

-

BFFAA68956BA




Apr

 

24

 

23

:

42

:

28

 

CharlieDesktop

 

galileod

[

54

]

:

  

device

 

uuid

:

 

322F

E572

-

D3A3

-48

A9

-

A309

-

ABB5688DCA0B




Apr

 

24

 

23

:

42

:

28

 

CharlieDesktop

 

galileod

[

54

]

:

  

RSSI

:

 

-66




Apr

 

24

 

23

:

42

:

28

 

CharlieDesktop

 

galileod

[

54

]

:

  

a

 

fitbit

 

tracker




Apr

 

24

 

23

:

42

:

28

 

CharlieDesktop

 

galileod

[

54

]

:

 

discovered

 

peripheral

:




Apr

 

24

 

23

:

42

:

28

 

CharlieDesktop

 

galileod

[

54

]

:

  

name

:

 

Charge

 

2




Apr

 

24

 

23

:

42

:

28

 

CharlieDesktop

 

galileod

[

54

]

:

  

transmit

 

power

:

 

5




Apr

 

24

 

23

:

42

:

28

 

CharlieDesktop

 

galileod

[

54

]

:

  

device

 

uuid

:

 

322F

E572

-

D3A3

-48

A9

-

A309

-

ABB5688DCA0B




Apr

 

24

 

23

:

42

:

28

 

CharlieDesktop

 

galileod

[

54

]

:

  

RSSI

:

 

-65




Apr

 

24

 

23

:

42

:

28

 

CharlieDesktop

 

galileod

[

54

]

:

  

a

 

fitbit

 

tracker




Apr

 

24

 

23

:

42

:

37

 

CharlieDesktop

 

galileod

[

54

]

:

 

discovered

 

peripheral

:




Apr

 

24

 

23

:

42

:

37

 

CharlieDesktop

 

galileod

[

54

]

:

  

name

:

 

(

null

)




Apr

 

24

 

23

:

42

:

37

 

CharlieDesktop

 

galileod

[

54

]

:

  

transmit

 

power

:

 

0




Apr

 

24

 

23

:

42

:

37

 

CharlieDesktop

 

galileod

[

54

]

:

  

service

 

uuid

:

 

ADABFB00

-6E7

D

-4601

-

BDA2

-

BFFAA68956BA




Apr

 

24

 

23

:

42

:

37

 

CharlieDesktop

 

galileod

[

54

]

:

  

device

 

uuid

:

 

322F

E572

-

D3A3

-48

A9

-

A309

-

ABB5688DCA0B




Apr

 

24

 

23

:

42

:

37

 

CharlieDesktop

 

galileod

[

54

]

:

  

RSSI

:

 

-64




Apr

 

24

 

23

:

42

:

37

 

CharlieDesktop

 

galileod

[

54

]

:

  

a

 

fitbit

 

tracker




Apr

 

24

 

23

:

42

:

37

 

CharlieDesktop

 

galileod

[

54

]

:

 

discovered

 

peripheral

:




Apr

 

24

 

23

:

42

:

37

 

CharlieDesktop

 

galileod

[

54

]

:

  

name

:

 

Charge

 

2




Apr

 

24

 

23

:

42

:

37

 

CharlieDesktop

 

galileod

[

54

]

:

  

transmit

 

power

:

 

5




Apr

 

24

 

23

:

42

:

37

 

CharlieDesktop

 

galileod

[

54

]

:

  

device

 

uuid

:

 

322F

E572

-

D3A3

-48

A9

-

A309

-

ABB5688DCA0B




Apr

 

24

 

23

:

42

:

37

 

CharlieDesktop

 

galileod

[

54

]

:

  

RSSI

:

 

-64




Apr

 

24

 

23

:

42

:

37

 

CharlieDesktop

 

galileod

[

54

]

:

  

a

 

fitbit

 

tracker




Apr

 

24

 

23

:

42

:

41

 

CharlieDesktop

 

galileod

[

54

]

:

 

Tracker

 

discovery

 

stopped




Apr

 

24

 

23

:

42

:

41

 

CharlieDesktop

 

galileod

[

54

]

:

 

Attempting

 

to

 

connect

 

to

 

tracker

 

322F

E572

-

D3A3

-48

A9

-

A309

-

ABB5688DCA0B




Apr

 

24

 

23

:

43

:

01

 

CharlieDesktop

 

Fitbit

 

Connect

[

322

]

:

 

assertion

 

failed

:

 

16E195

:

 

libxpc

.

dylib

 

+

 

74307

 

[

ABC45890

-

DA23

-3

A4A

-

B50B

-1384

BD4CBBDF

]

:

 

0x89




Apr

 

24

 

23

:

43

:

01

 

CharlieDesktop

 

ACCFinderSync

[

1211

]

:

 

couldn

'

t

 

build

 

FinderToCoreSyncProtocol

 

ptr

 

+

[

CoreSyncConnectionHelper2

 

getDistant

]




Apr

 

24

 

23

:

43

:

02

 

CharlieDesktop

 

com

.

apple

.

xpc

.

launchd

[

1

]

 

(

com

.

apple

.

quicklook

[

1212

])

:

 

Endpoint

 

has

 

been

 

activated

 

through

 

legacy

 

launch

(

3

)

 

APIs

.

 

Please

 

switch

 

to

 

XPC

 

or

 

bootstrap_check_in

()

:

 

com

.

apple

.

quicklook




Apr

 

24

 

23

:

43

:

02

 

CharlieDesktop

 

com

.

apple

.

xpc

.

launchd

[

1

]

 

(

com

.

apple

.

imfoundation

.

IMRemoteURLConnectionAgent

)

:

 

Unknown

 

key

 

for

 

integer

:

 

_DirtyJetsamMemoryLimit




Apr

 

24

 

23

:

43

:

02

 

CharlieDesktop

 

com

.

apple

.

xpc

.

launchd

[

1

]

 

(

com

.

apple

.

imtranscoding

.

IMTranscoderAgent

)

:

 

Unknown

 

key

 

for

 

integer

:

 

_DirtyJetsamPriority




Apr

 

24

 

23

:

43

:

02

 

CharlieDesktop

 

com

.

apple

.

xpc

.

launchd

[

1

]

 

(

com

.

apple

.

imtranscoding

.

IMTranscoderAgent

)

:

 

Unknown

 

key

 

for

 

integer

:

 

_DirtyJetsamMemoryLimit




Apr

 

24

 

23

:

43

:

02

 

CharlieDesktop

 

com

.

apple

.

xpc

.

launchd

[

1

]

 

(

com

.

apple

.

imdmessageservices

.

IMDMessageServicesAgent

)

:

 

Unknown

 

key

 

for

 

integer

:

 

_DirtyJetsamMemoryLimit




Apr

 

24

 

23

:

43

:

04

 

CharlieDesktop

 

Fitbit

 

Connect

[

322

]

:

 

BUG

 

in

 

libdispatch

 

client

:

 

kevent

[

EVFILT_MACHPORT

]

 

monitored

 

resource

 

vanished

 

before

 

the

 

source

 

cancel

 

handler

 

was

 

invoked



I installed Fitbit Connect with the following terminal commands:
#

 

Install

 

Fitbit

 

Connect




image

=

FitbitConnect

-

v2

.

0

.

1

.

6809

-

2016

-

08

-

09

.

dmg




volume

=/

Volumes

/

FitbitConnect

-

v2

.

0

.

1

.

6809

-

2016

-

08

-

09




curl

 

-

o

 

$

image

 

http

:

//

cache

.

fitbit

.

com

/

FitbitConnect

/

$

image




open

 

$

image




sudo

 

installer

 

-

pkg

 

$

volume

/

Install

\

 

Fitbit

\

 

Connect

.

pkg

 

-

target

 

/




umount

 

$

volume




rm

 

-

f

 

$

image