I received a request from Coinbase to provide more personal information. While I still hope bitcoin replaces much of our current payments system, I must admit I am at least not being interrogated by my bank regarding the use of my account.
After some searching, it seems Coinbase has sent similar messages to other users ahead of closing their accounts, and other users received notifications their accounts were closed without a chance to hear the accusations and defend against them. Time will tell if my bitcoin payments for server time and other web services are deemed unworthy of payment by digital currency.
An Important Message from Coinbase

Hello,

Thank you for your interest in Coinbase! We know that you have a choice when it comes to digital currency services and we are grateful to have you as a customer.

As a regulated financial institution we have the responsibility of understanding how our customers are using our service. As part of our compliance program, we are required to periodically review high volume accounts. We therefore request your assistance in helping us complete this required review by providing the following information at your earliest convenience:

Please describe the primary use for your Coinbase account.
Please specify your current job title and employer to help us understand your current source of income/funds for your purchases. Please be as specific as possible; any supporting documentation you can provide (e.g. your LinkedIn profile, if available) will help expedite the completion of this review.

You may fill out the requested information here or reply with your answers directly to this email. We take privacy and security very seriously here at Coinbase. We offer either a Kiteworks folder or PGP for secure communication upon request. If you wish to utilize either of these options, please respond to this email with your preference.

Thank you for your time and assistance. If you have any questions about the nature of this request or issues providing the requested information, don't hesitate to reach out. We are here to help.

Respectfully,

Coinbase Customer Support
Following the link, I was asked to fill out a simple form that didn't allow for much of the detail the email implied would be necessary.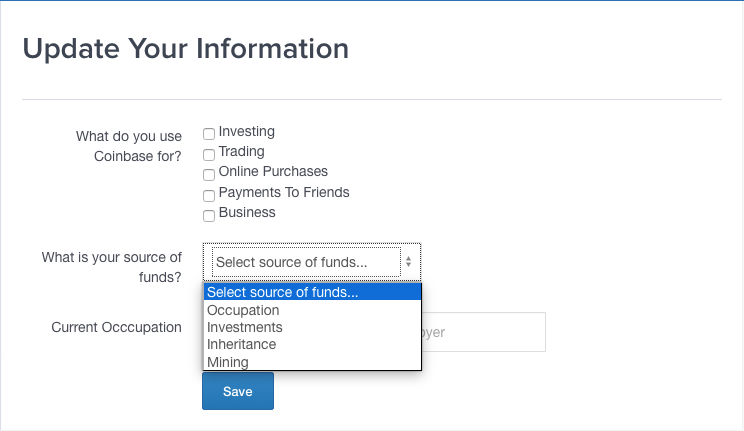 coinbase_survey.png