Shipping to
UK

slow, expensive!
A few weeks ago, Tyler told me to look out for some contact lenses that would be delivered here, for he desperately needed them for his last month living in Europe. I was glad to be able to help, but it didn't go as smoothly as I hoped.
It was about Wednesday when he told me this, saying they should arrive by Tuesday at the latest. When they arrived the following morning, Thursday, my birthday, I repackaged them and checked prices right away so as not to miss the cutoff for June 2 departure.
The quotes were much higher than I expected, but of course Tyler was going to pay me back. I assumed the choices would be something like a $40 two day option and a $20 four day option, but no. The options were:
Global Express Guaranteed® (

GXG

)
1-3 business days to many major markets
$99.55
Priority Mail Express International™
3-5 business days to many major markets
$62.50
Priority Mail International® Small Flat Rate Box
6-10 business days to many major markets
$33.95
Were I sending this for myself, I'd have opted for the cheapest. But that 6–10 days was discouraging. I actually expected more exact estimates, especially since London is a major city, but I guess technology isn't there yet. Still, I figured, being a major city, it would be on the low end of that estimate.
As I tried to decide, Tyler happened to come online on Facebook, so I asked him. He seemed to want the $60 option, but still it seemed wasteful to me. I mentioned the contacts arrived at our San Francisco house a full five days earlier than they could have, so in a way that already gave us a buffer. He consented to the $34 option, and I mailed it!
I shouldn't have cared after that, but of course I wanted to make sure I left a good impression, and rooted for the package's quick transit. Tracking showed activity after a few hours, but then all of Friday and Saturday passed without activity, so the package apparently hadn't even left San Francisco. Finally, Sunday evening, it departed.
Once it reached London, again I hoped it would be delivered within a day or two, but almost a full eight days passed between leaving a London airport and being delivered! I felt bad for Tyler and was wishing I paid the extra $30!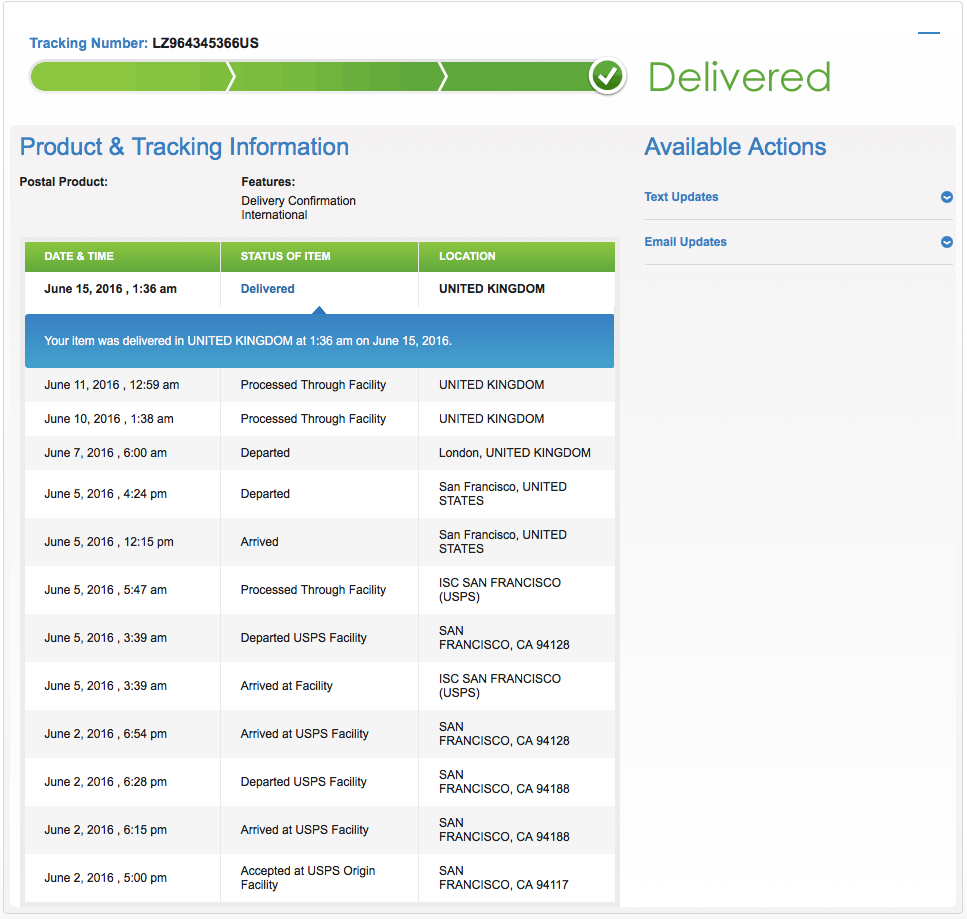 Tracking history for my parcel sent from San Francisco, California, United States, to London via USPS Priority Mail International service in a small flat rate box.
On top of that, Tyler apparently had to pick up the package (from a Royal Mail office?) to pay a 26£ ($36.33) customs fee!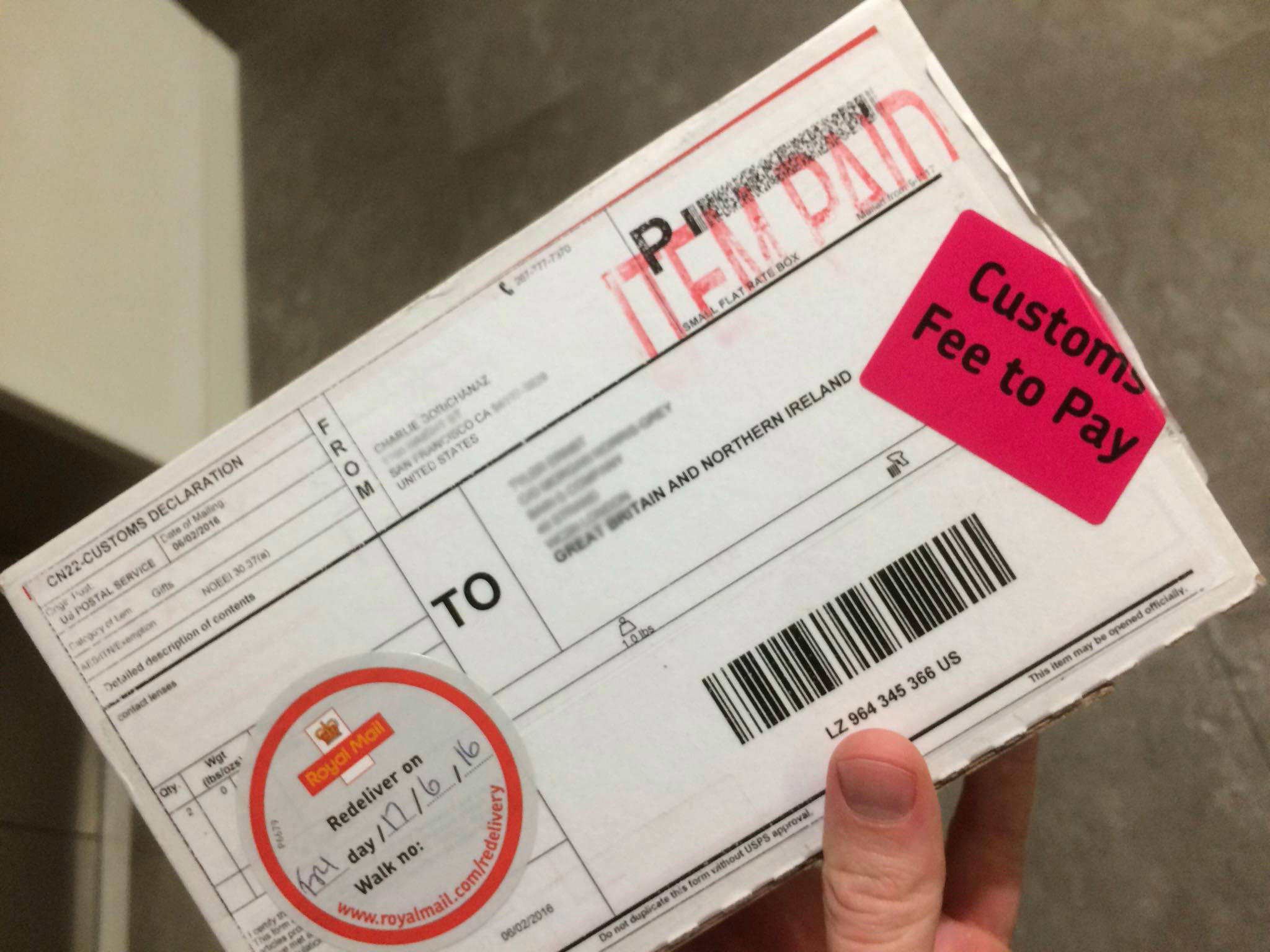 A quick search yielded a Pitney Bowes web page that said:
The import duty rate for importing Contact lenses x 3 boxes into United Kingdom is 2.9% , the import VAT is 20%, when classified under Health & Beauty → Eye Care → Contact Lenses with HS commodity code 9001.30.0000
I'm not sure if that's the applicable regulation here, but I guess it could make sense if they figured the contacts were worth about $158. I'm not sure what the lesson is here… don't send contacts to the UK, or lie? I had already written "gift" on the customs form because none of the other categories made sense. Oh well!