Turtle Beach Micro
II

and

OS

X
After troubleshooting surround sound on OS X El Capitan all week, I bought a USB digital audio adapter in hopes of circumventing the problems using the digital audio port on my motherboard. Well, those hopes have been dashed! It seems I can only reliably get surround sound through the Micro II using the annoying Plex Home Theater app, which is exactly the situation with my onboard optical port. Oh well!
After reading Toleda's Surround Sound - Realtek ALC AppleHDA [Guide] but failing to get any option for "encoded" digital audio in the Audio MIDI Setup utility, I thought perhaps I didn't correctly install the Realtek ALC892 patches or something was incompatible, but I might have better luck with a separate USB device. That guide mentioned the Turtle Beach Micro II (website, Amazon) USB adapter, so I bought it on Amazon.
The guide shows an option for "Encoded Digital Audio" with their USB adapter:
Image from Toleda's post above
Just as with my onboard optical port, I get no such option in my El Capitan installation.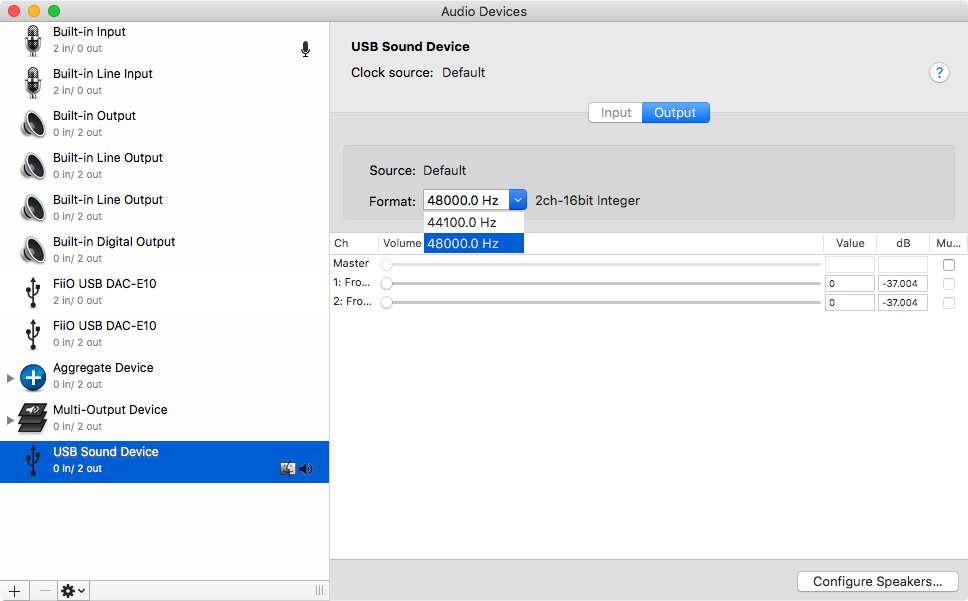 usb_sound_device.png
I am still able to pass through a DTS digital signal using Plex Home Theater as I described yesterday, but I was hoping to be able to play six channel music and also use VLC player, which apparently won't pass through surround sound unless it recognizes an audio device supporting encoded digital signals, and I have a suspicion that will only happen if I also am able to select that in Audio MIDI Setup. (I also tried the device with my new 2016 12" MacBook to make sure this wasn't a hackintosh problem.)
Looking closer at the manufacturer's website, it at first looks like this product does what I want:
S/PDIF I/O and Dolby Digital/DTS:
Older Macs do not provide built in S/PDIF digital output capability.
Adding a S/PDIF optical digital output to an older Mac usually requires the purchase and installation of an expensive add-on sound card. The Audio Advantage Micro II provides Mac OSX users with a no-hassle and inexpensive alternative.
- The Micro II has an optical digital audio output.
But then further down, they explicitly say the device only works in stereo mode on a Mac.
The AA Micro II offers the following features when used in a Mac running OSX:
- Stereo analog audio output (DAC at up to 16-bit/48kHz resolution)
- Stereo (PCM only) Digital audio output (optical)

Features *not available* to Mac users:
- No microphone or line input on Micro II
- Dolby Digital / DTS pass-through is not available.
- When used in a Mac, the Micro II's S/PDIF Out cannot "pass through" Dolby Digital or DTS encoded audio data streams (sometimes referred to as AC3 format digital audio). The Micro II can pass uncompressed PCM data — but *not* AC3 (multichannel surround-encoded) digital audio data such as Dolby Digital or DTS.
Now I'm left wondering if a different USB to optical adapter would allow me to select "Encoded Digital Audio" through OS X, or if OS X just isn't capable of native 5.1 audio.