Scorecard: year 1, week 6
Week 6 of my first 12 week year is over, and I scored 85.8%. This is much better than the last two weeks, and might be my best week yet depending how you look at it.
I spent most of my hours working on a programming project, but I only planned 14 hours for this at the beginning of the week. I also planned to put 16 hours into Khan Academy, but I barely put any. Had I simply planned to put all the time into projects at the beginning, my score would have been 92%. (The score difference would have been much greater, at around 20%, if I didn't make a fix to the scoring that I meant to make at the beginning. I wasn't counting projects as "deep work," when they are generally about as deep as it gets for a programmer.) I intentionally made the scoring such that it pushed me to work on the things I planned to work on, but this doesn't work well if I decide midweek the project is a higher priority. At least I'm tracking things, even if it isn't perfect.
A week ago I also tried to standardize my schedule a bit more so I could build some habits. I did a decent job of sticking to it, though I did have to make many changes throughout the week, but with more restraint than previously. Most notably, I managed to get up around 8 every day and run pretty consistently following the "sub 4 hour marathon" Runkeeper training I'm using to keep me accountable. As part of that, I've been forcing myself to run a bit faster (8–9 min miles) than usual (10+ min miles), and that's felt good once the runs were over! I'm on track to log more miles this month than any month before, which is perhaps a testament to how poorly I've trained in the past for my races. If I manage to get another 4 miles in today (thank you leap year!), I'll break 100 miles for the first time. Strange, it doesn't sound like so much considering Tim has run a couple of 100 mile races now.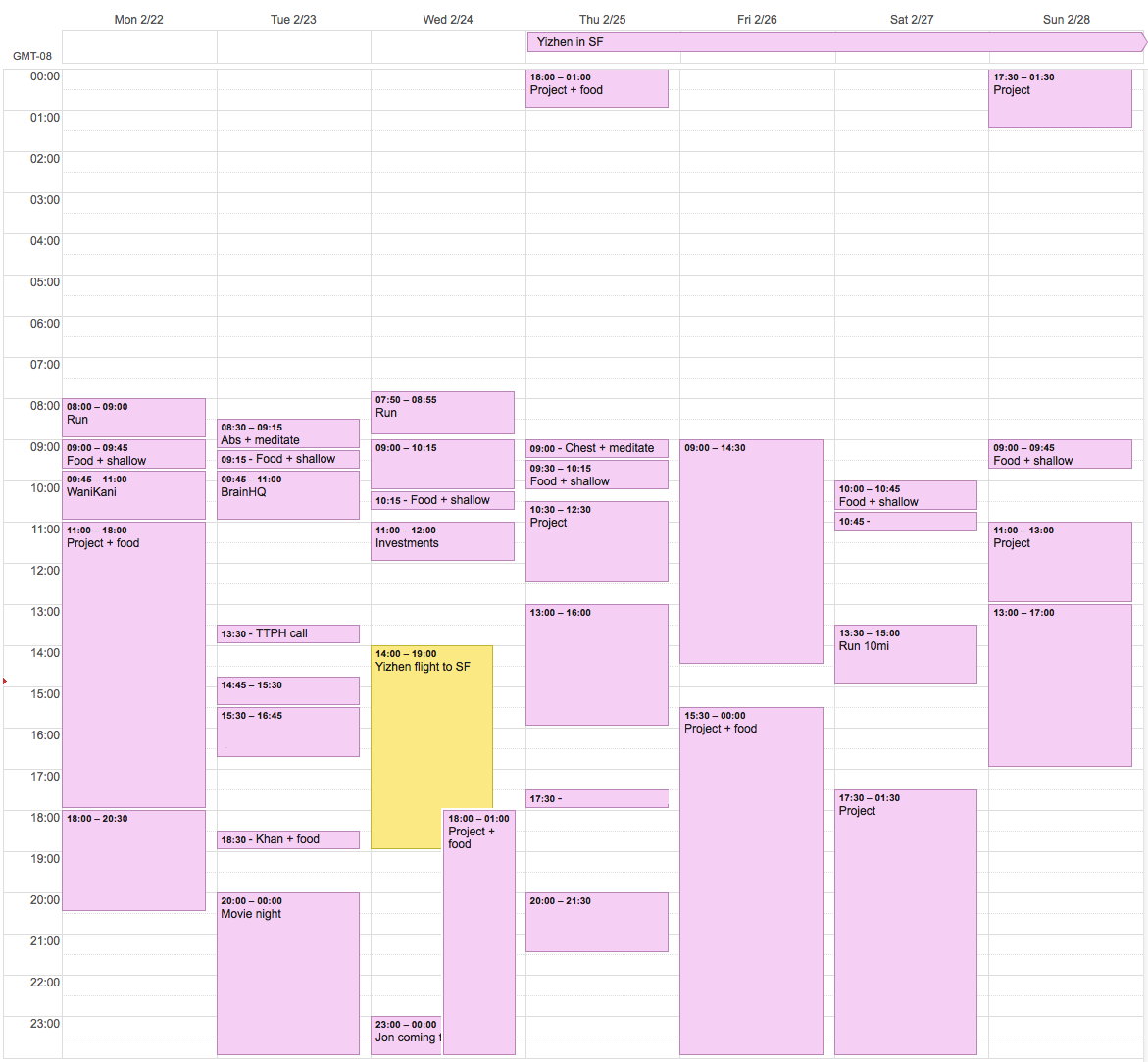 Twelve Week Year 1, Week 6" class="mt-image-none" height="1083
Also notable last week was I hosted a game night with four friends, which is the biggest crowd I've gotten to come visit me at once since moving here. How different things are compared to the days of dozens of people over for pregraming every week in college!
I also went shopping last night with Yizhen to buy a few shirts and some pants. Most of my clothes are remnants of what I owned in college, and thus I don't have many shirts left that fit well and look good! Now I have a couple, but I'll need to work on this if I get a job that requires dressing up more than I've been required to working at home all these years!
I'm pretty excited for Yizhen to move in down the hall from me this summer. While I like everyone I live with currently, I don't see people around the house that often. I guess the same might happen with him, but I'm hoping we can at least pool our time to cook once in a while and perhaps hang out. Time will tell, and I've got a ton to accomplish before then!